Is Your Chimney System Protected With A Quality Chimney Cap & Damper?
Each component of your chimney system serves a very specific purpose, whether it's to protect the system or to keep it operating as efficiently and as safely as possible. Two of the most important but oftentimes overlooked components are the chimney cap and damper.
What Is A Chimney Cap & Why Do I Need One?
Every year, we make countless repairs to chimneys and fireplaces – many of which could have been prevented had the system been properly equipped with a quality chimney cap. The chimney cap is the component that sits at the top of the chimney flue and works to prevent moisture, bugs, animals, and debris from entering the system and wreaking havoc. Chimney caps come in a variety of styles and sizes, and when professionally fitted and installed, can prolong the life of your chimney system and prevent thousands of dollars' worth of repairs – which is why every single chimney needs one! They also work to prevent downdrafts, and can keep stray sparks from the fire from igniting nearby trees and combustibles.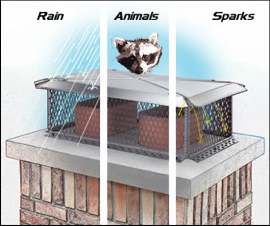 Unfortunately, if your chimney cap is poorly fitted or maintained, or if animals or strong winds loosen or remove it, it can leave your flue completely vulnerable and open to the elements. Is your chimney cap still working hard to protect your flue from damage? If not, we can help! We sell and install chimney caps of all shapes and sizes, in a variety of materials, like stainless steel and copper. Investing in a quality cap is one of the smartest things you can do for your chimney system – so don't put it off!
What About Dampers?
The damper is a component that has traditionally resided in the throat of the fireplace, working to close off the fireplace when it's not in use. Unfortunately, these throat dampers often rust into place, making it impossible to safely enjoy a fire in your fireplace. If your damper has rusted into place, we can help. We sell and install top-mounted dampers, which pull double duty in protecting your chimney system and preventing energy loss.
Unlike traditional throat dampers, these dampers are installed at the top, as opposed to the bottom of the flue (much like a chimney cap), and provide a rubber, airtight seal at the top of the chimney system. As a result, they work to protect the flue from moisture, animal, insect, and debris intrusion, while also preventing downdrafts and energy waste. If you're in need of a new damper, why not kill two birds with one stone by investing in a new top-mounted damper?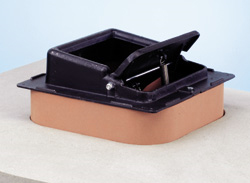 We Carry The Best Products Available
Are you looking to invest in a high-quality chimney cap or damper that will protect your system and serve you well for years to come? Call on Old Dominion Chimneys! We carry and install the best fireplace and chimney products on the market. Request an appointment to have your new chimney cap or top-mounted damper installed by calling 540-434-0888 or clicking here. We're here to help!