For Masonry Repairs Big Or Small, Old Dominion Chimneys Is The Company To Call
Since we first set out to serve our neighbors throughout central Virginia and over 30 years ago, those of us here at Old Dominion Chimneys have performed thousands of masonry repairs and restored countless chimney systems. Our skilled team has mastered all things masonry and works hard to keep the historic and modern fireplaces and chimneys of Virginia looking beautiful and working like a charm. Our masonry repair specialties include the following:
Tuckpointing – When moisture, time, house settling, and bugs cause your chimney's joints to recede, crack, and form holes and gaps, we can help. Our expert masons carefully remove old mortar and replace it with fresh mortar. When you have this tuckpointing work performed by the team at Old Dominion, you can expect the most beautiful, seamless, and durable results possible.
Brick Re-facing – Have the bricks on your chimney or fireplace started cracking, crumbling, or bursting? We can help. We'll carefully remove damaged brick and replace it with brick that matches the original strength and coloring of your existing brick for a seamless, strong, beautiful end result.
Mortar Wash – The cement slab that sets at the top of your masonry chimney stack works hard to protect the chimney against the advancements of rain, sleet, snow, and other outside elements. But not all crowns are built to last. The certified team here at Old Dominion has expert mortar wash and crown repair skills and can make sure you're left with a durable, strong, beautiful crown that will offer protection to your chimney, season after season. Learn more here.
Chimney Rebuilds – Is your chimney so badly damaged that it's no longer structurally sound? Our expert masons can completely rebuild your chimney to restore the safety and integrity of your system once more. No matter how big or small the job, you can count on us.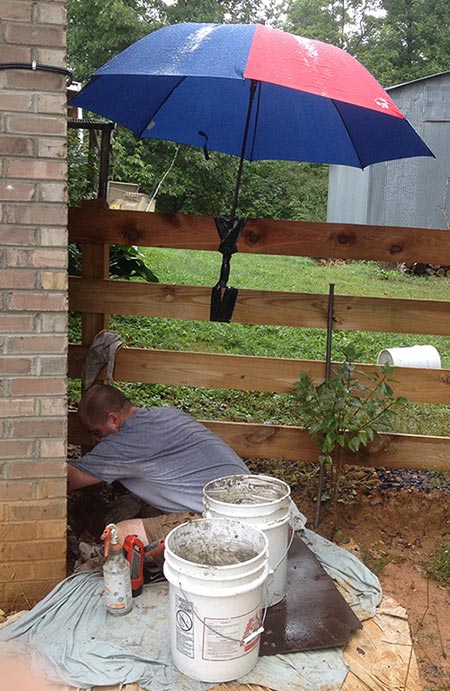 Call Today!
Whatever your masonry repair needs, you can count on Old Dominion Chimneys to do the job right. Call us at 540-434-0888 or click here to request your appointment today!
Call us right away for help with this critical chimney repair before more damage can occur.