Do You Need To Have Your Chimney Relined? We Can Help!
The flue of the chimney is responsible for ushering smoke and byproducts out of your home when your fireplace or stove is in use. But in order to do so as safely and as efficiently as possible, the flue must be lined with a proper flue liner. For decades, flues were unlined, which tests performed by the National Bureau of Standard's revealed to be so unsafe it's "little less than criminal." After all, the flue liner doesn't just provide a correctly sized, smooth flue for maximum efficiency, it also protects the masonry of the chimney from the byproducts of combustion, prevents heat from transferring to nearby combustibles, and contains smoke and carbon monoxide produced during combustion.
When flue liners did come onto the scene, they were primarily constructed of clay tiles, which do a pretty good job of standing up to the heat and byproducts of combustion, but they're certainly not indestructible. In fact, over time, these liners can crack and crumble, creating an unsafe situation. Is your chimney liner in need of some attention? We can help.
The team here at Old Dominion Chimneys can check your flue liner for damage using our ChimScan video scanning equipment. Should we notice any cracks, holes, or other areas of concern, we can reline the flue to restore its safety and efficiency so you can get back to enjoying your hearth.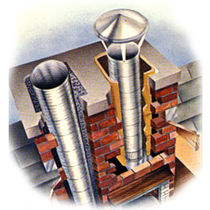 Systems we reline include these:
Wood stoves (Free-standing, Inserts, Hearth Stoves)
Wood-burning Fireplaces (Modern, Traditional, Historical)
Gas Fireplaces (Gas Logs, Furnaces, Water Heaters, Boilers)
Oil Appliances (Furnaces, Boilers)
Coal
Other
Changing Fuel Or Appliances?
A damaged flue liner isn't the only reason to reline. You may also need to have your chimney relined when you have a new fireplace, insert, or stove installed or switch fuel types. Not all liners are equipped to vent all fuels, and your new appliance could need a larger or smaller flue liner than the one you currently have. That's why it's important to have your new appliance installed by a professional with experience and training. A professional chimney technician will let you know whether your existing liner will work with your new appliance or if you need to have a new one installed.
Your Chimney Relining Option
Here at Old Dominion Chimneys, we offer the most durable and reliable chimney relining option:
Stainless Steel – Stainless steel liners are so incredibly durable that most come with a lifetime warranty. These are rust-resistant, strong, and available in both rigid and flexible designs. And since stainless steel is approved for venting all fuels, you can be confident your new liner will serve you well, whether you're burning wood or gas. Learn more here.
Give Us A Call Today!
If you think you may need to have your chimney relined, give us a call at 540-434-0888. We're local, certified, and 100% dedicated to your satisfaction and safety. Call or click here to schedule your appointment!
You'll be glad to know that we can assist you with any hearth-related insurance claims and repairs; that's just one of our chimney and fireplace repair services.