We Bring Thorough Chimney Sweeping Services To Our Neighbors Throughout The Shenandoah Valley
For centuries, fireplaces and stoves have been a source of warmth and comfort, and a centerpiece for gatherings with family and friends. But chimneys and fireplaces can pose a great risk to the safety of you and your loved ones if not properly maintained and swept.
You see, as the fire burns in your fireplace or wood stove, smoke is created and travels up the chimney flue and out of the home. On its way up and out, the smoke can cool and leave creosote deposits along the lining of the flue. This creosote, a highly flammable substance, can harden and build up on the lining of the flue, restricting air flow, eating away at the flue liner, causing smoke to pour back into the room, and even causing a chimney fire.

But creosote isn't the only reason to have your chimney regularly swept. Animals, birds, and other critters can bring flammable nesting materials and outside debris into your chimney as well, causing flue blockages, damage, and chimney fires. A chimney fire can produce temperatures upwards of 2000 degrees, damaging the flue, roof, and walls, and rapidly spreading to other areas of the home. Are you protected against this unnecessary, but very real, threat? If you're scheduling annual chimney inspections and sweepings, you can be sure of it.
Keeping up with annual chimney inspections and sweepings can essentially eradicate this threat altogether. Inspections allow your chimney technician to get a good look at the condition of your chimney and fireplace, so that any needed repairs can be made and any buildup or blockages can be removed.
Keep Your Risk Of Fire Minimal With Annual Chimney Sweeping Services
When our certified technicians arrive at your home to inspect and sweep your chimney system, we'll lay down drop cloths and use special vacuums to ensure that your home and property stay clean and protected throughout the sweeping process. With Old Dominion Chimneys on the job, your frets about a mess can be put to rest! We'll leave your home as clean as it was when we arrived – only now you'll have a clean chimney as well!
Think You May Have Already Had A Chimney Fire?
Concerned that you may have already had a chimney fire? More than 22,000 chimney fires occur in the United States every year, and many homeowners are completely unaware – especially with slow-burning chimney fires. Here are some indications of a chimney fire to be on the lookout for:
Loud cracking or popping noises
Excessive, dense smoke
Intense, hot odor
Sparks or flames from the top of your chimney
If you think you may have had a chimney fire, give us a call! It's imperative that you have the system inspected, cleaned, and repaired before using it again!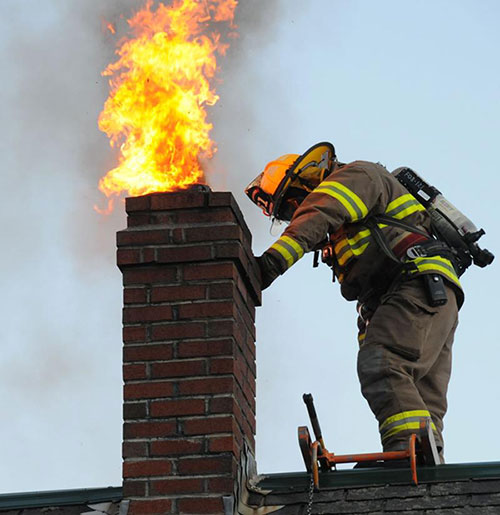 Request Your Chimney Sweeping Today
Whether you live in Harrisonburg, Waynesboro, or somewhere in between, let the expertly trained and certified technicians at Old Dominion Chimneys make chimney and fireplace maintenance easy and affordable for you and your family. All of our technicians are extensively trained to keep you, the customer, in mind at all times. We stand behind our work and strive to meet and exceed your needs and expectations, each and every time. Call us at 540-434-0888 or click here to request your chimney sweeping appointment today!
Regular chimney inspections will reveal the health of your chimney system so you'll know exactly what additional chimney or fireplace service you might need.