Relining With Stainless Steel: The Durable Solution That's Safe For All Fuel Types
Is your clay tile chimney liner in bad shape? Is it riddled with holes, cracks, and gaps? Has time and abuse from the fire rendered it ineffective and unsafe? Does your new appliance call for a smaller flue? Is your existing liner unable to safely vent your new fuel choice? Was your chimney built without a liner?
Whichever scenario you find yourself in, there's a simple and long-lasting solution: a stainless steel liner. Here at Old Dominion Chimneys, we use high-quality, U.L. tested and listed stainless steel liner systems to upgrade and repair existing chimney systems. Opting for a stainless steel reline is cost-effective and will allow you to enjoy your chimney system once more, no matter which fuel you prefer. This durable relining option is safe for use with gas, oil, pellet, and wood-burning appliances, so whether it's your fireplace or your furnace chimney that needs relining, stainless steel is a great choice.
We Carry Both Rigid & Flexible Stainless Steel Liners
Have an oddly shaped chimney with a lot of turns and angles? We have both rigid and flexible stainless steel liner options, so it doesn't matter how big, small, or unconventional your chimney is, we can help. Our certified technicians can promptly provide you with professional installation services, and can even help you determine exactly which liner is right for your home.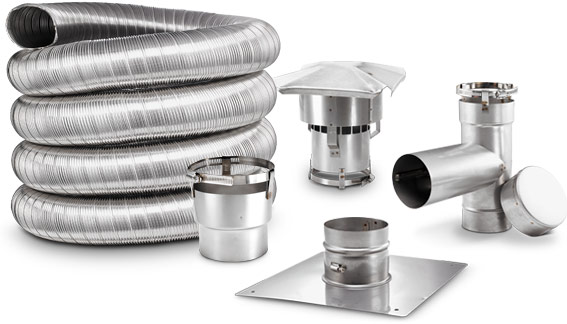 Why Choose Stainless Steel?
Stainless steel liners are great for several reasons:
Durable. Aluminum liners can rust and corrode, while clay tile liners can crack and crumble. Stainless steel is a great choice for a reline because it's rust-resistant and incredibly durable.
Safe for use with all fuel types. Aluminum liners are typically less expensive than stainless steel, but unfortunately, they're only safe for use with gas appliances. Stainless steel, on the other hand, can be used with wood, gas, oil, and pellet appliances.
Long-lasting. Most stainless steel liners come with a lifetime warranty.
Stainless steel liners also provide an affordable and hassle-free solution when your flue is too large for the appliance it is venting. We can simply install a new, appropriately sized stainless steel liner and you can start enjoying your hearth.
Have Questions? Give Us A Call!
If you'd like to learn more about the stainless steel liners we carry and install or would like to speak with one of our knowledgeable and friendly team members, please give us a call at 540-434-0888. We're here to help! You can also request an appointment online here.