If you have a wood burning fireplace, you know just who to call to clean and inspect your chimney every year: Old Dominion Chimney Service. We're experts in chimney inspection, cleaning, and repair! We also take great pride in our Chimney Safety Institute of America (CSIA) certification, our experience and expertise, and our high level of customer service. When you call Old Dominion Chimney Service, you know you're getting a job well-done. But did you know there are many other things that you can call us to take care of?
At Old Dominion Chimney Service, when it comes to fireplaces and chimneys, we work hard to stay on top of all aspects of maintenance and repairs. If you need a new flue liner, damper assembly, or chimney cap, we can help you out. We also do rebuilds and restoration, and can help you find a heating appliance that suits your wants and needs. But we do more than just work with wood burning appliances. We sell, install, and service gas appliances as well!
Gas Appliances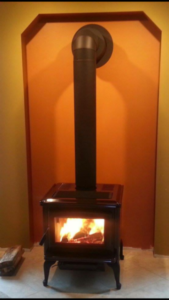 There are many benefits to gas burning appliances. If you love the warmth and look of a wood fire and think that gas just can't compare, think again. Over the years, these appliances have improved in quality and appearance. It might surprise you to see what the new gas burners have to offer. First, burning with gas is easy and convenient. Think of all that goes into burning with wood. You cut the wood, store it correctly so it can season properly, find a place to keep it that's close enough to the house so that it's convenient to bring in but not too close to avoid rodent-or-other-creature infestation, bring in the wood, lay it out so that it'll burn decently, then get it going. And then there's the clean-up that's involved. With a gas burning appliance, it can be as easy as flipping a switch.
If you have a wood-burning fireplace or if you're thinking about changing to a gas-burning appliance, give us a call. There are many options to choose from, and our experts can give you sound advice as to what type will look best and work well in any room.
If you already have a fireplace and are looking to change to gas, we offer many types of gas inserts that can fit right into your existing fireplace and can be vented through your chimney with not much trouble at all. Modern gas inserts offer the look and feel of a natural wood fire at the flip of a switch. It doesn't get much easier than that! In addition, we can help if you're looking for a free-standing appliance, too.
Servicing Gas Appliances
At Old Dominion Chimney Service, we not only install gas appliances, we offer maintenance and repair as well. We love keeping people safe and happy, so give us a call today and we'll do whatever it takes to make your gas appliance dreams come true!