A wood fire has a certain ambiance that can't be beat. The crackling flames from a wooden fireplace can create such a mesmerizing, relaxing mood, but there's a lot of work involved with a wood-burning fireplace. Cutting and hauling wood, storing it, and cleaning up ashes after the fire are just a few of the things involved with caring and using a wood-burning fireplace. If you're one of those people who loves the feeling of a cozy fireplace but hate the work involved with it, you should consider gas logs. If you're thinking a sparse, artificial-looking, thin blue flame, think again. Today's gas logs have a natural wood look, so you can have the feel of a wood fire without all the hassle!
Benefits of Gas Logs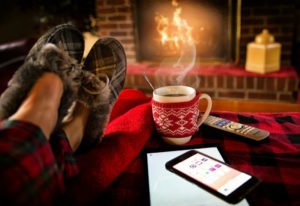 Although wood burning fires look wonderful and cozy, in truth they are not very efficient. Because the space in front of the fire is open, cold air can be drawn down the chimney while the warm, lighter air is drawn up and out, into the open air. With gas logs, there are glass doors in front of the logs so that the heated air can't escape through your chimney. With gas logs, there's no fuss of storing or laying the logs, getting the fire going, and keeping the fire going. All it takes is a flip of a switch, and then you have a beautiful fire. There's also a thermostat that can control the flame size and heat output.
Gas Log Maintenance
A big concern with gas logs is what type of care and maintenance is required. With a wood fire, there's lots of set up and clean up involved, but this is not so with gas logs. There's no need to store firewood and clean up ashes anymore, if you have gas logs. However, this doesn't mean that there is no maintenance required.
First, when it comes to installation of the gas logs, you must hire a professional for this job. In order for the logs to be installed according to the manufacturer's standards and regulations, you need to hire professionals. When you hire the professionals at Old Dominion Chimney Service, you know you are getting the best service in Central Virginia. We have the experience and expertise in installation and maintenance of gas logs, and we are certain we can help you with your gas logs.
Call the Pros!
According to the Chimney Safety Institute of America, the best way to make sure that your gas logs are running effectively and efficiently is to get your fireplace and chimney inspected annually. Look no further than Old Dominion Chimney Service, we also offer the best inspection services in the area along with our installation and care of gas logs.